Technological Marketing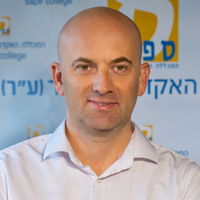 Dr. Vili Abraham
Department Chairperson, Technological Marketing Department
The HighTech Industry offers one of the most interesting and rewarding employment opportunities in Israel and globally. Groundbreaking Israeli technologies are leading worldwide markets in variety of fields such as health, communications, software, and transportation.
The main challenge facing high-tech today, is not technological, but the creation of an effective business and marketing strategy and then implementing it.
Sapir's Technological Marketing degree is a unique program, the only one of its kind in Israel. It offers the best training for high-tech management and marketing experts with a broad understanding of innovative products and solutions, designed primarily for international markets. We equip students with the knowledge and business practice skills that drive the high-tech industry. After their first year of academic studies, students choose to specialize in one of five tracks, including:
ICT: Information and Communication Technologies
Digital Marketing
Entrepreneurship and Innovation
These specializations are the most sought after and rapidly developing fields, equipping students with the toolset required for successful careers. The program offers a wide variety of entrepreneurial options including work experience. In addition, we provide an internationalized curriculum with English Medium Instruction courses.  
 
Expert faculty challenge students to innovate and develop agile and creative thinking by designing tech-marketing projects for customers and companies. Students gain practical tools and experience in market research, segmentation and selection of global target markets, research and development management from concept to sales, branding and business models.
Alumni Careers
Graduates have successful careers in high-tech management and marketing as product, marketing and communications managers, digital marketing managers, business development managers and more. Many work in a wide range of high-tech and biotech industries from promising startups to the world's leading companies such as Microsoft and Medtronic. Others establish their own start-ups, sometimes during their degree studies.
Sapir's Technological Marketing BA program provides a broad foundation for alumni that choose graduate studies at universities in Israel and abroad, in a variety of disciplines including Business Administration, Health Systems Management and Industrial Management.