Cultural Studies, Creativity and Production MA Program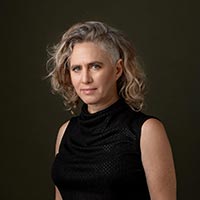 Sapir's Cultural Studies, Creativity and Production new graduate track aims to develop Israel's intellectual and professional cultural leadership by combining two disciplines: Cultural Studies and Cultural Leadership & Entrepreneurship.
Cultural Studies
Our high-level graduate program provides a comprehensive education together with methods for interpretation and criticism of contemporary cultural and social phenomena, trends and contexts. Courses focus on current research-based cultural theory, approaches and methodologies, critical thinking on cultural models that provide a conceptual basis for practical activities. In addition, students learn about and meet key figures in the field of cultural research through a collaborative discourse. Practical seminars apply the knowledge gained in the academic courses, through a deep exploration of case studies and the interpretation of cultural and sub-cultural relationships in the local and global context.
Cultural Leadership & Entrepreneurship
Promoting the next generations of cultural leaders, we provide first class training and entrepreneurship tools and up-to-date professional skills. The program offers workshops that provide:
Professional training tools for resource development, strategic thinking, assessment and more;
A deep understanding of Israel's cultural activity, cultural policy, conflicts and culture, culture and community.
Development of the professional position of the cultural leader.
The Lab−The Final Project
Students are required to submit a final project. We created the 'Lab' to support students throughout this process. A unique platform, it provides expert mentoring and professional sponsorship by leading Israeli cultural bodies. Students explore their personal interests and receive guidance to develop a new cultural initiative. Site visits around Israel offer students exposure to contemporary cultural institutions and activities, together with encounters with leading figures in the field of culture in Israel and around the world.
The Edmund de Rothschild Foundation (Israel)
The Edmond de Rothschild Foundation (IL) works to create an inclusive and collaborative Israeli society, by promoting excellence, diversity and leadership through higher education. The Foundation continue a legacy of philanthropic innovation, investing in change agents and promoting a pioneering spirit.
The Foundation, which operates within the framework of the international network of the Edmond de Rothschild Foundations worldwide, initiates dozens of innovative projects throughout Israel, aimed at reducing social gaps and fostering young leadership.
The Foundation's efforts to achieve higher education in as many communities as possible, to promote innovative academic research, to engage artists in social involvement, to invest in groundbreaking economic and social models, and to nurture young and committed leadership affect the lives of tens of thousands of people and shape the future generation of Israel's pioneers and entrepreneurs.
With a firm belief in the power of individuals to bring about change, and out of a commitment and a sense of responsibility for the pioneering spirit of the State of Israel, the Edmond de Rothschild Foundation (IL) is dedicated to empowering, connecting, promoting, and nurturing the various groups that make up Israeli society.
The mosaic of identities that constitutes the Israeli society is an invaluable opportunity to develop a rich and vibrant fabric of life which can engender – through diversity and partnership – a healthy and progressive society in which shared good is enhanced. We are convinced that the consolidation and intensifying of human values, along with deepening knowledge and striving for excellence, will lead to the establishment of an inclusive and prosperous Israeli society.
As part of its vision for the advancement of culture and the arts through institutions of higher education, the Edmond de Rothschild Foundation (IL) supports the development of the leadership component in the M.A. in Cultural Studies program, with an emphasis on leadership and entrepreneurship in culture. The Foundation's support will enable graduate students to acquire unique skills in the field of culture management for the purpose of training a new generation of leaders and entrepreneurs, reinforcing an entrepreneurial, spearheading, and social approach amongst managers in culture in Israel.