Message from the President
Message from our President: Professor Nir Kedar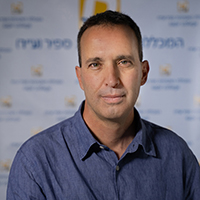 Sapir is among the largest public colleges in Israel. As a well-established academic institution, it is known for providing an excellent, high-quality education that is relevant to Israel's society and job market. The campus is an open, safe and inclusive academic space for all who enter its gates. As a regional cultural and economic anchor, Sapir contributes to local development and promotes social mobility and sustainability.
All these accomplishments have been achieved despite Sapir's location, near the Gaza border, in the heart of the geographical and social periphery of Israel. This is neither a coincidence nor an accident. These are the fruits of an extraordinary vision, combined with inspiration and hard work of the excellent people who work and teach at the College, and consider Sapir their academic and professional home.
When I first came to the College a decade ago, I felt that I had 'come home'. This feeling has not left me to this day, nor has my love and appreciation for Sapir, its people and the region.
It has been my privilege to be appointed as the new president of Sapir College. This new position is first and foremost an academic mission, coupled with the opportunity for deeper community engagement.
I invite you to join me for a meaningful academic, human and intellectual experience at Sapir!