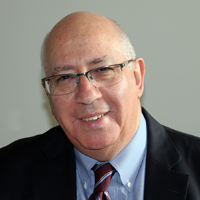 I am very grateful for the opportunity given to me in August 2019, to join Sapir Academic College as its President. Immediately upon my arrival, I felt how privileged I am to join the unique group of people who comprise Sapir's teaching and administrative staffs and students. Their resilience on their daily travel to teach, study and work at a college located less than two miles from the Gaza Strip − given all the security risks that this location entails − cannot but be admired. I say this especially as someone who has spent his previous years in the relative safety and comfort of Jerusalem, Rehovot, Tel Aviv, and Boston.
The reason why Sapir's campus community deserve such credit extends farther and deeper than their unwavering resilience and resolve. Despite the challenging conditions that they endure daily, they succeeded in building a superb educational institution. Sapir is known in Israel for its centers of excellence and the unique learning experiences that it offers. These experiences range from practical hands-on instruction that connects scholarship to real world challenges. Another unique feature is the personal care and attention provided to each student. This is an expression of our mission to provide an equitable and accessible education to all students, regardless of their background.
Our inspiring diversity and inclusivity policies attract students with a wide range of needs and backgrounds, from all sectors of Israeli society. The majority come from the Negev periphery. Many are the first in their families to pursue a college education. Sapir embraces students from immigrant (olim) families, many among them from Ethiopia. Currently about 10% of Sapir's student body come from Israel's Arab Bedouin community. The College's inclusive policies have also resulted in a high proportion of students with disabilities, about 20%. We are also very proud of the high number of IDF veterans who choose to study at Sapir.  
Over the past two decades, the resilience of Sapir's staff and students has been tested time and again by rockets and other ordnances fired from across Israel's border with Gaza. Especially acute were these challenges during the major confrontations between Israel and Hamas in 2008-09, 2012, and 2014.
As a new resident of neighboring Sderot, my first personal experience with such challenges, albeit on a smaller scale, was in November 2019 when the Gaza border region was subjected to some 50 hours of relentless rocket attacks. Unfortunately, since then, like all the other local residents, I've continued to experience life under the challenge of rocket fire.
What more than two decades of Kassam rockets and more recently the explosive balloons failed to achieve, by mid-March 2020, COVID-19 did, emptying Sapir's campus of students. Likewise, dreams and plans for further developing the College had to be set aside as strategies for mobilizing the required resources were crippled by the impact of the health and economic crisis. Consequently, there was no choice but to reset the College dial from a "development" to a "survival" mode.
                        
And survive we did. With the total dedication of Sapir's faculty and staff, we transformed teaching at Sapir from traditional to online instruction overnight. Throughout this period, special attention was given to our disadvantaged students -- especially but not exclusively our Arab Bedouin and Ethiopian community students -- to make sure that we do not lose some of them on the way.
As many of our students, come from among Israel's economically most disadvantaged populations they were especially vulnerable to the devastating economic dimensions of the COVID crisis. Most have lost their part-time jobs and many of their parents became unemployed. This has dictated our  priority to obtain the financial resources required to provide these students with scholarships and stipends that will help cover their tuition, rent and food so that they will not have to abandon their dream of obtaining a college education. Thanks to our friends and supporters, we have been able to provide these students considerable emergency funds. However, the ongoing coronavirus pandemic has created a growing demand for a variety of financial aid platforms for our students.  
Notwithstanding the magnitude of these challenges, we've lately also had some very good news. The number of students who began studying at Sapir this year is significantly higher than in previous years; and Sapir Law School graduates have once again passed the Bar Exam at a high level of achievement: ranking third place nationally, after Hebrew University and Tel Aviv University and first among the Colleges.
Looking beyond the immediate effects of the Coronavirus crisis, our vision for Sapir's development over the next 4-5 years is very ambitious. Identifying upcoming trends, we will be instituting a pedagogic revolution: to provide students with options for high-level cross-disciplinary studies, entrepreneurship and innovation experiences, alongside practical and transferrable job skills to better equip them for the rapidly changing markets. The College's Associate President for Academic Affairs, Nir Kedar, is leading this important revolution with my full support.
Given the realities facing Israel, this vision may be seen as unrealistically ambitious. But the State of Israel was founded, developed and prospered against all odds, as did our College. For these reasons, our ambitious goals for Sapir accord perfectly with the Zionist idealism that characterized my parents' and grandparents' generations. Indeed, it is the opportunity given to me to join their historic journey by trying to realize these ambitious goals for which I feel so grateful.
Yours -- Shai Feldman