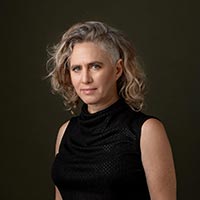 Our program explores the artistic, political and social processes that drive the design of local and global cultures. We examine Israeli and global art forms from classics to popular culture in literature, film, television, plastic arts, music and new media.
Sapir's Cultural Studies, Creativity and Production degree is the only BA program of its kind in Israel. It combines academic studies in the interdisciplinary field of Cultural Studies with practical and professional training in the field of Arts and Cultural Management. Courses focus on a multidisciplinary exploration of the arts, critical analysis, research and management tools. Students explore culture's social and ideological influences and their impact on values, behaviors and identities.
Among the program's highly skilled faculty are renowned scholars from the best of Israeli and international academic institutions; and professionals that work in the field. Leading cultural researchers and experts utilize innovative teaching methods. They provide students with the skills to develop critical thinking and analytical ability, based on intellectual trends that influenced and still influence knowledge and culture of the modern world.
Our program's practical orientation offers management and entrepreneurship skills. Students learn by doing, they operate the annual 'M'Darom'  a local Negev cultural festival, they write, edit and publish a print and online cultural Hebrew language journal Maamul; as well as create content, produce, market and manage cultural events. In parallel to their academic studies, students have the option to train at the Sapir's School of Art Society and Culture for certification as an art instructor or as a community facilitator artist. This track includes internships at local community frameworks.
Sapir's Cultural Studies, Creation and Production department is cultivating and nurturing the next generation of cultural scholars, managers and activists.
Alumni Careers
Alumni work in cultural publications, institutions, museums and performing arts centers.