Identifying upcoming needs and worldwide changes, Sapir College created a groundbreaking academic entrepreneurship program: HIE Sapir: Center for Innovation & Entrepreneurship. The Center operates events, conferences, workshops, hackathons and roundtables to foster innovation in Israel's southern periphery.
eXlab: Experience Lab
HIE Sapir is located in the eXlab: Experience Lab, an expansive open space on the first floor of the library. Designed to encourage innovation, entrepreneurship and creativity, it includes a multipurpose open space, a central work area with comfortable workplaces, seating, and fully equipped rooms.
The eXlab was founded with the generous support of São Paulo Women's Division - Keren Hayesod and the ICA Foundation.
Practica @ Sapir
HIE Sapir's new initiative is "Practica @ Sapir", operated in partnership with the non-profit organization Yozmot Atid. This advanced academic and practical entrepreneurship course offers residents of the Western Negev and Gaza Envelope, knowledge and creative thinking tools together with innovation and entrepreneurship methodologies. The eight-month academic course provides advanced skills in entrepreneurship, financial management, marketing, digital, taxation, law and credit.  Participants will enjoy the services of expert mentors, Sapir faculty and third year Technological Marketing students, to assist them to develop their business initiatives in the eXlab's technologically equipped and advanced workspace.  Course graduates will open new ventures and/or expand their current businesses, making an important contribution to employment in the South.
The Coronavirus pandemic's has caused high unemployment rates. We believe that this model, combining academics with practical entrepreneurial skills has the potential to improve the income capacity of local residents along with contributing to their personal resilience and sense of self-fulfillment.
Our flagship project: HIE Sapir Labs focuses on developing ideas into entrepreneurial ventures. Managed by Sapir's academic departments with industry related partners, the labs provide third-year students and local residents with customized learning, invaluable practical experience and entrepreneurial skills for both business and social ventures.  Cross-departmental instruction with expert mentors offer tools and training for teamwork and creative thinking, along with opportunities to experiment and to learn from failure. Students acquire the capacity for life-long learning, interdisciplinary approaches, research and analysis. In parallel, student-operated Entrepreneurship Clinics, supervised by academic faculty, offer the Lab teams legal, marketing, business and software support services.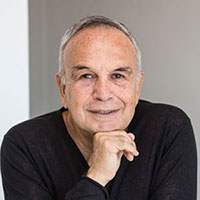 Nissim Barel
Chair, HIE Sapir: Center for Innovation & Entrepreneuship
"There is no doubt that the unique model we developed at HIE Sapir is a groundbreaking integration of entrepreneurship and academic studies."
Culture Lab