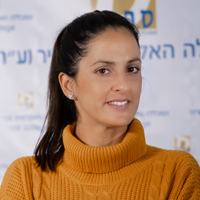 Ms Atara Peretz Huri
Program Director
Electrical Practical Engineering provide the design, repair and maintenance of home and industrial electrical systems, propulsion systems, control systems, production and energy conversion systems, and more. There is significant market demand for professionally trained experts for hi-tech and industry in a wide variety of roles in development, consulting and supervision, planning, manufacturing, construction and maintenance of electrical systems, installations and appliances.
Sapir's Electrical Practical Engineering Diploma includes theoretical and technical studies together with practical skills. Students are equipped with professional expertise together with the capacities for creative and original thinking and problem solving. Graduates are in high demand for a variety of jobs throughout a variety of industries. Our electrical, machinery, command and control labs are among the most advanced training labs in the country. Our program offers:
Excellent lecturers
High rates of graduate certification
Training for an electrician's license, which enables further licensing  opportunities to work with high voltage
An attractive and wide range of high paying jobs
Alumni Careers
Government certified graduates fill a variety of jobs in major industries, and are qualified to obtain an electrician's license, subject to the Ministry of Labor regulations. Alumni are equipped with the highest quality education and skills required for the meaningful and lucrative employment.