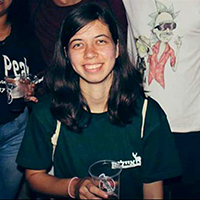 At Sapir, academia is not about understanding the world, but changing it. Students like Mia Levy make that happen. Now, Israel's Council for Higher Education has honored Levy for outstanding volunteer service to the community. Mia, who recently completed her studies at the Sapir Academic College School of Social Work, conceived and launched a volunteer effort to assist the Bnei Moshe, a community of immigrants from the northeastern India. The Bnei Menashe believe they are descendants of the tribe of Menashe, exiled from their ancestral home in the 8th century, BCE. They begin returning to Judaism in the 1970's and several thousand have made Aliyah. Often marginalized socially and economically, many Bnei Moshe live in the nearby town of Sderot. Mia recruited volunteers from within the community, trained them, and empowered them to obtain the rights and benefits to which community members are entitled.
Mia's efforts are part of a broader social action program operated by Sapir's community engagement unit, the longest running student volunteer program in Israel. Volunteers form the unit staff and operate programs to address a diversity of social needs in the Negev. Other examples include an initiative to share the personal narratives of Ethiopian olim; the Sderock program, helping at-risk youth acquire vital social skills through music; support efforts for whistleblowers who have been laid off for exposing workplace corruption; and efforts to empower Bedouin communities and elderly immigrants from the former Soviet Union.
Naama Ayad-Buhadana, director of the community engagement unit, is delighted, but not surprised: "Mia's achievement reflects how all of us here a Sapir, students and faculty alike, understand academia. We are, first and foremost, part of the community.  At the end of the day, our mission is to make the world a better place."
More News
Sapir College Celebrates 1,115 New Graduates
After a most challenging year that included Covid-19, remote studies and social distancing, followed by the recent rocket attacks, we were overjoyed to finally celebrate in-person Graduation Ceremonies! Outfitted for the first time in caps and gowns, our 1,115 graduates celebrated over two consecutive evening events (June 7 and 8) with their families.   Each evening's main event kicked off by recognizing outstanding students−a total of 41−who received Sapir's Honors Certificate from their Department Chairs, followed by speeches celebrating this year's graduates given by: Gilead Sher, Chair
If anything defines the Sapir Academic College it is resilience. Sapir resumed operation immediately after the recent round of hostilities ended. Students grabbed their laptops, instructors stepped up to their lecterns and researchers filled the library. From communications to computer science, form marketing to the visual arts, Sapir is abuzz with academic endeavor, as students and faculty race to finish the school year and plan for the next one. Commencement ceremonies will take place on June 6th, 7th and 8th. Everyone here seems to agree on one point:  It's great to be back.