Synopsis
Ori (35), a theatre director at Tivon High School, embarks on a quest to fulfill his dream of directing in Berlin. His dream takes a turn when Tal (30), his fiancé and partner for the last six years, breaks up with him. He returns to his country in order to save his relationship. His distressed mental state draw him close to Lynn (17), a student of his. He ignores her romantic hints and the boundaries between them as he tries to replace Tal's absence. His actions complicate him with the police. Just before he gives up and returns to Berlin something stops him from boarding the flight.
Director's Statement
Hybris and Outsiderity - Ori isn't satisfied with his work as a school director and dreams to succeed in Berlin. This hybris will eventually cost him his relationship with Tal (30) his fiancé. His grief over his breakup, in addition to his Intoxication of power as a director over the students, blurs the boundaries between them. As a result, besides getting complicated with the law, he loses his social life and is pushed to Outsiderity.
 
The Symmetry of Nadav's escorting-
In the beginning, while Ori dreams of succeeding abroad, his fiancé Tal tutors Nadav (16), an autistic Student. On a later stage, after Ori is fired, he begins tutoring Nadav. This supposedly anticlimactic move is in fact part of Ori's inner process. Through the pain of breakup and his moral fall, he pays the price of social exile but undergoes a personal transformation through the eruption of his hybris. Through working with Nadav, he is obligated to learn and practice modesty and to serve the other, which turns out to be what he is really called for.
Yonatan Peretz | Director
Film director, writer and musician whose Films were screened at international film festivals including Montreal World Film Festival, St. Louis IFF, Polish IFF, Tel Aviv IFF etc. Direction, screenplay and music for theatre includes plays at The "Goetheanum" theatre in Switzerland, Acco International theatre festival, Haezrach Kan-Karov theatre Festival (T.A), Tmuna theatre (T.A), Hamila theatre and more. Studies include an M.F.A in film direction and production from the Steve Tish Film and Television department at Tel Aviv University and finishing his Masters in Music composition at Haifa University.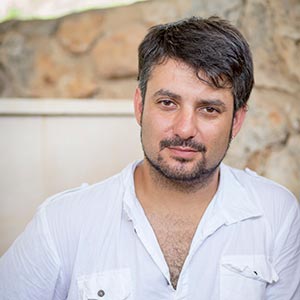 Kobi Azran | Producer  
Producer, graduated with honors from Sam Spiegel Film School in Jerusalem. Specializes in Independent film productions as well as a line production for TV dramas and feature films. Among the films produced by Azran:  "Ella's Men" (short, 19 min.) by Oren Adaf, Officially Selected at Locarno 2017; "Inter-Galactic Samurai" (short, 20 min.) by Hagar Ben Asher, TLV International Student Film Festival winner 2018. Among his work as a line producer for TV dramas and feature films: "Significant other" (Seasons 1-2) by Dana Modan, Ram Nahari and Assi Cohen; "A Very Important Man VIP" (Season 2) by Shirli Mushoyef; "Honeymood" by Talia Lavie.