Sapir Mechina Pre-Academic Preparatory Program: Access to Success
Education is the best tool for economic and social mobility.  Sapir's Mechina Pre- Academic Preparatory Program for Discharged Soldiers, founded in 1982, operates under the auspices of Ministries of Education and Defense and the IDF Soldiers Relief Fund.  The majority of the program's students are from the ranks of the IDF reserve duty soldiers.
Over the past four decades, thousands of Mechina alumni have advanced to high-level education and professional training for meaningful and rewarding employment. The majority of Mechina graduates continue their studies at Sapir College. We have developed unique study methods and provide customized programs that meet students' needs. Our goal−is our students' success!
The Helmsley Mechina Complex
Sapir's Mechina Complex was built in 1984 to serve recently discharged IDF soldiers. The building no longer complied with Israel's updated accessibility codes, had limited space and unsuitable conditions.  The Leona M. and Harry B. Helmsley Charitable Trust has been an amazing friend to the College. In March 2020, Sapir inaugurated the Helmsley Auditorium, the largest protected space on campus. The Helmsley Trust's generous support has continued with the funding for the complete renovation of the Mechina. Now under construction, the beautifully designed Helmsley Mechina Complex will have three buildings, offering the best inclusive and accessible services and classroom experiences.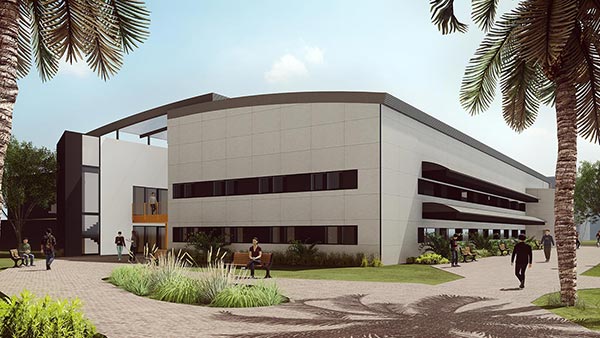 Helmsley Mechina Complex Building
(rendering above by Zarta Architects)
Sapir's Mechina Pre-Academic Preparatory Program offers multiple options, designed to meet the needs of students with a wide range of educational needs, they include:
Mechina Pre Academic Programs
The Mechina pre-academic track offers students two main options:  
Humanities and Social Sciences: Preparation for a college education in the Humanities and Social Sciences together with research and academic study skills. Students earn a "Mechina Certificate," an alternative to the matriculation certificate (Bagrut) which is accepted by Sapir and other public colleges.
Economics and Computer Science: This intensive track offers preparation for a college education in Economics, Accounting and Computer Science together with research and academic skills.
The Mechina's Student Resources and Counseling Center
Established in association with Israel's National Insurance Institute, offers solutions and methods for students with disabilities and learning disorders and for students that Hebrew is not their first language. The Center works in collaboration with the Ministry of Defense, the Ministry of Health, the Ministry of Education and other agencies.  Based on students' needs and abilities it provides guidance, personal support and academic assistance. In addition, the Center is equipped with a range of technological tools, including−reading software, smart boards, computerized writing tools and specialized systems−that contribute to a successful learning experience. These methods help students gain valuable skills, transforming into confident and independent learners.
Mechina Pre Academy Program for Arab Students
This unique program offers Arab Bedouin students, the opportunity to close educational gaps and to advance to higher education. This track focuses on improving students' Hebrew, math and English proficiency and academic study skills. The Mechina certificate replaces the matriculation requirement for admissions to Sapir College.
Pre-Mechina Matriculation (Bagrut) Program
Designed for participants who have completed 12 years of school. This pre-Mechina offers students the opportunity to gain a full matriculation (Bagrut) certificate or improve their matriculation grades.  To ensure success, study coordinators build individual programs based on the needs and abilities of each student. Successful program graduates can advance to specialized Mechina Preparatory Programs as described above.
Mechina for 30+
Our Mechina for 30+ provides adults the opportunity to close academic gaps and advance to higher education. Studies are concentrated to one day or night a week, enabling participants to stay in work while studying.
High School Equivalency Certificate
This track offers students the chance to gain a High School Equivalency "Gmar" (GED) certificate. This certification offers a path to admissions for other Mechina programs, vocational training, professional development and jobs that require a minimum "Gmar" (12 years of education) certificate.
Psychometric Preparatory Course
This track offers students psychometric exam prep. The psychometric (similar to the SAT in the United States) is an admissions requirement for application to universities, some private colleges, and certain departments within Sapir and other public colleges.