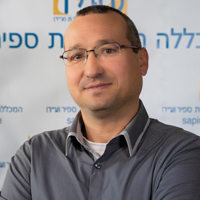 Mr. Oshik Nissim
Program Director
Mechanical engineering is the basis for the most advanced industries, including the automotive industry. Sophisticated computer systems designed in the past for aeronautics and other industries, today, are regular components of modern cars that improve performance and passenger safety. The latest vehicles incorporate advanced and complex platforms that require experts to diagnose and repair problems and develop new and safer methods. Autotech is an exciting, unique and high demand profession, for people who have a technological orientation and love cars.
Sapir's Mechanical Autotech Practical Engineering Diploma offers theoretical and practical knowledge to operate and repair sophisticated computerized mechanical, hydraulic and pneumatic systems; and to improve their technological platforms. We provide students with the skills to assimilate technical literature in Hebrew and English, utilize international databases and global support networks.  Students gain capacity for lifelong learning, to meet the changing needs of the industry's rapid innovation and development. They learn to create and maintain current vehicles as well as design and improve future automotive systems. In addition, students have the option to pursue further certification, for a variety of jobs, such as: garage managers; car appraisers; traffic safety officers; car examiners; licensing examiners; leading automotive companies expert Autotech specialists.
Alumni Careers
Graduates are highly sought after, employed in senior positions in modern garages in a variety of positions, including: diagnostics, mechanics and service consultants; technical managers; examiners; and experts on the automotive manufacturer's technical instructions; sales to organizations and more. They work in automotive manufacturing, marketing and maintenance; spare parts inventory managers and develop innovative vehicle systems. Alumni also work in management, as safety officers, car examiners, car appraisers, and car fleet managers, etc.