A new study by Clalit Health Services, Sapir College and Ben Gurion University shows that the second booster reduces mortality  due to COVID-19 by 78% for  people 60 +
The rapid emergence of the omicron variant led to a global resurgence of COVID-19. Israeli authorities approved a 4th vaccine dose (second-booster) for individuals aged 60 and above who received a first booster dose four or more months earlier. This study included all 563,465 members of Clalit Health Services (the largest HMO in Israel) aged 60 to 100, eligible for the second-booster. Mortality due to COVID-19 among participants who received the second-booster was compared with participants who received one booster dose. Death due to Covid-19 was 78% lower in the second-booster group. Our findings support essential evidence on the life-saving value of second-boosters in elderly adults aged 60 and over.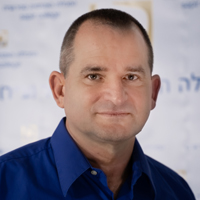 According to Dr. Ronen Arbel, Health Outcomes Researcher at Clalit Health Services and Sapir College: "The study of a large cohort of more than 500,000 participants aged 60 to 100 demonstrated that mortality rates due to COVID-19 were 78% lower after a second-booster dose. The main conclusion is that the second booster is lifesaving."
This important research project, has received global attention, with articles published in Europe, Turkey, Canada, and the Philippines.
More News
Moroccan Jewish Life Comes to the Screen
Time is running out. Only 2000 Jews remain in this once influential community dating back to Roman times. Until the mid-20th century Jews played a vital role in the fabric of social life in Morocco.
On the Front Line of Cyber Defense
Wars are still fought with tanks and artillery, but today's conflicts increasingly take place on the virtual battlefield. The IDF's elite C4I Unit is Israel's front line of defense against hostile cyber-attacks on critical national infrastructures, from civilian water supplies to military command and control systems. Now, Sapir College has joined forces with the IDF to train a reserve of highly motivated young people from the Negev, willing and able to defend their country on tomorrow's battlefield.