A new study by Clalit Health Services, Sapir College and Ben Gurion University shows that the second booster reduces mortality  due to COVID-19 by 78% for  people 60 +
The rapid emergence of the omicron variant led to a global resurgence of COVID-19. Israeli authorities approved a 4th vaccine dose (second-booster) for individuals aged 60 and above who received a first booster dose four or more months earlier. This study included all 563,465 members of Clalit Health Services (the largest HMO in Israel) aged 60 to 100, eligible for the second-booster. Mortality due to COVID-19 among participants who received the second-booster was compared with participants who received one booster dose. Death due to Covid-19 was 78% lower in the second-booster group. Our findings support essential evidence on the life-saving value of second-boosters in elderly adults aged 60 and over.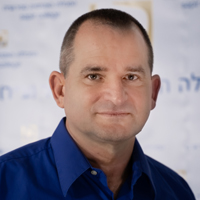 According to Dr. Ronen Arbel, Health Outcomes Researcher at Clalit Health Services and Sapir College: "The study of a large cohort of more than 500,000 participants aged 60 to 100 demonstrated that mortality rates due to COVID-19 were 78% lower after a second-booster dose. The main conclusion is that the second booster is lifesaving."
This important research project, has received global attention, with articles published in Europe, Turkey, Canada, and the Philippines.
More News
Rewarding Excellence at Sapir
It was a crowning moment when 89 outstanding students at Sapir College received merit scholarships for academic excellence, 79 of them with great distinction and ten with the highest distinction. The fact that many of them hail from underserved communities in Israel's social and geographic periphery only made it sweeter and more poignant. Liat Aleemo, a student at Sapir's Cultural Studies program, explained how academic achievement is intimately connected to her own personal growth. "The opportunity to study theory at Sapir helped me frame my own experience in a broader social context.
Building Digital Communities
It was the first event of its kind. Twenty seven students from the Sapir Academic College Innovation Lab met with representatives of JDC-Israel to pioneer a new approach to social service and advocacy. They're all part of course at Sapir's Communications Department, organized in conjunction with JDC, on the interface between digital communities and the third sector.  Under the direction of Dr. Omer Keinan, students follow and analyze relevant social media content and then build effective digital communities to help JDC improve its social intervention programs.