Mechanical Mechatronics Practical Engineering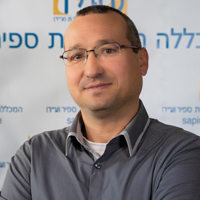 Mr. Oshik Nissim
Program Director
Mechatronics is a multidisciplinary field interfacing mechanics, machine parts, hydraulics and pneumatics, automation, electronics, electrical, computers, control. Its systems are mechanical, electrical, electronic, sensor and control components, some or all of which are programmable. It is one of the most highly sought after professions in the electronics, hydraulics and computer industries.
Sapir's Mechanical Mechatronics Practical Engineering Diploma offers high level demanding studies, technical and practical tools and skills, expertise in computer-aided design, including drawing in SolidWorks software and programing and printing design models on 3D printers. Faculty are experts in their field. Focused on both current and future market trends, they provide the most advanced teaching methods, coupled with personal attention to meet each student's needs.
Alumni Careers
Graduates work in the high-tech, civil, security and private industries. They plan integrated systems embedded in computers and sensors, create machinery and parts, design computer aided manufacturing, production management, quality assurance, services and marketing. Most alumni experience rapid career advancement to challenging and interesting positions with the commensurate salary.
Some alumni decide to continue their education and complete a Mechanical Engineer B.Sc. degree. In addition, they can pursue a B.Ed. Tech degree to train as teachers for the Israeli high school system or as lecturers for engineering colleges.