סמינר מחלקתי

The internet's future lies with its next billion users. They are coming online through smartphones and using the Internet in radically new ways. There is massive potential and innovation to help solve their challenges with technology. 
Building apps for Next Billion Users is quite different. Users in emerging markets have unique needs, culture, environment and technological constraints. We are going to talk about the best practices in building apps in terms of connectivity, compatibility, performance and client/server communication.
Facebook Lite is an app built with these users in mind and is strongly committed to building experiences for these users first. In this talk, Noga Tavor aims to share some of the learnings and insights collected along the way of building it.

אודות המרצה, גב' נוגה תבור, מנהלת מוצר, Facebook תל אביב: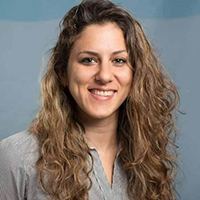 Noga Tavor is a Product Manager in the Facebook Tel-Aviv Office. 
Noga has a BSC in Computer science and her background is mostly in R&D in both Engineering Management and Software Engineering positions. She later on transitioned to Product Management. 
Noga has been at Facebook since 2018 and up till recently, she worked on Facebook Lite: a lightweight version of the regular Facebook app targeted at developing markets and low end devices. 
Before Facebook, she worked on various types of products and in different types of companies: from small start-ups to large corporations both in the local and international tech industries. 
Noga is passionate about diversity and has been active around various diversity initiatives inside and outside of work.
הוספה ליומן
2021-03-14 12:00:00
2021-03-14 13:00:00
Building Apps for the Next Billion Users
מדעי המחשב | נוגה תבור
המכללה האקדמית ספיר (ערב)
info@sapir.ac.il
Asia/Jerusalem
public